KAZAKH NATIONAL MEDICAL UNIVERSITY
Kazakh National Medical University is a university in Almaty, Kazakhstan (RUSSIA). It is the no.1 medical institute in all of USSR ,KAZAKHSTAN. Many of Russian's leading physicians are affiliated with the university. It is dedicated to S.D. Asfendiyarov who was the first rector when the university was established in 1931.
5 year MBBS english medium course
hostel with high speed wifi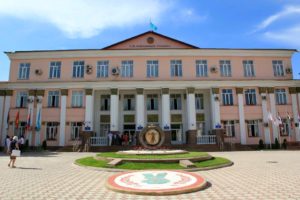 indian mess
large library
20 competion per year
In 2001, the government classified it as a "national university." There are more than 11000 students, PhD students study in University -and there are more than 1500 faculty members working in KAZAKH NATIONAL MEDICAL UNIVERSITY , including more than 200 doctors of science, 130 professors, more than 500 candidates of science and 15-.laureates of State prizes.
At the university there are 76 departments and 7 courses at 6 faculties (therapeutic, pediatric, public health, management in public health and pharmacy, general medicine, professional training and 2 faculties (pharmaceutical and stomatological) departments were transformed into modules (pharmaceutical faculty 5 modules, stomatological
Other Universities in Kazakhstan and Russia.
SHYMKENT MEDICAL UNIVERSITY
KARAGANDA STATE MEDICAL UNIVERSITY
SEMEY STATE MEDICAL UNIVERSITY 
AKTOBE MEDICAL UNIVERSITY
KAZAN STATE MEDICAL UNIVERSITY
KAZAKH RUSSIAN MEDICAL UNIVERSITY
For Admission: Contact
ASTANA MEDICAL UNIVERSITY, ASTANA, KAZAKHSTAN
Dr Shaz +77054435482
EMAIL – drshazmbbs@gmail.com
                         INDIA
Dr Shaz +919602079748

EMAIL – drshazmbbs@gmail.com
WWW.FACEBOOK.COM/KAZAKH.MEDICAL.UNIVERSITY